About The ISCA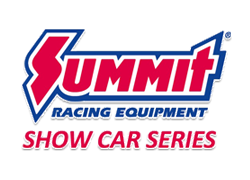 News
Who are we? First and foremost, we're "car people." We love cars; we customize them, collect them, design them, build them, rebuild them, show them, drive them, and read about them. Basically, we eat, sleep and breathe cars.
The International Show Car Association (ISCA) is made up of three different groups of people (all of whom love cars, especially rods and customs): Exhibitors, who show their vehicles and compete at ISCA-sanctioned indoor events; Judges, who judge the vehicles and determine where a vehicle places in its respective class; and Producer Members, who produce the indoor custom car shows.
ISCA was formed in 1963 to act as the sanctioning body for the competition at our shows and doesn't produce any of the indoor shows. Its purpose is to oversee the competition at each event, supervise the judging staff, keep track of exhibitor points, and manage the series championship, which is known as the Summit Racing Equipment Show Car Series.
ISCA-sanctioned events are produced throughout the United States, from coast-to-coast, and in parts of Canada.The number of spectators at these events ranges from 150,000 at the largest show, to 20,000 at the smaller shows. However, due to the competition, top quality vehicles are entered at all shows, no matter the size.
With over 350 classifications, the competition covers just about any type of vehicle including: hot rods, customs, trucks, street machines/competition, sports cars, sport compacts, bikes and restored vehicles.
ISCA-sanctioned events award an average of $10,000 in cash and prizes to exhibitors at each show, and the total for the entire season is more than $750,000. An additional $250,000 in cash and prizes is awarded at the Championship Finals banquet. We love to give back to our exhibitors, and the ISCA is the only championship series that pays participants travel money to attend our shows.

PRODUCER MEMBERS
Championship Auto Shows, Inc. /
Championship Auto Shows Canada
Peter A. Toundas
1092 Centre Road
Auburn Hills, MI 48326
(248) 373-1700
(248) 373-7091 Fax
Carl Casper Show Cars, Inc.
Carl Casper
PO Box 43535
Louisville, KY 40214
(502) 267-0077
Motorsports Productions, Inc.
Sonny McLean
322 Bradford Circle
Trussville, AL 35173
(205) 655-4950
Southern Wheels Productions
David Gunn
1216 Shreveport-Barksdale Highway
Shreveport, LA 71105
(318) 518-1225
I-X Center
Steve Legerski
One IX Center Drive
Cleveland, OH 44135
(216) 265-2514
Speed Sport Promotions, Inc.
Joe Savoie
67 Otho Street
Neguac, NB E9G 1M3 Canada
(506) 779-5599
International Show Car Association
Paul Potocki, General Manager
1092 Centre Road
Auburn Hills, MI 48326
(248) 371-1600
Boise Roadster Show
Scott New
PO Box 1398
Eagle, ID 83616
(208) 938-8986
Michigan Hot Rod Association
Gasper (Butch) Patrico
20853 Crowley
St. Clair Shores, MI 48081
(586) 804-9472
Portland Roadster Show
Duane Caseday
PO Box 97238
Portland, OR 97233
(503) 232-4567
World of Customs
Harold Sullivan
1879 N. Coley Rd.
Tupelo, MS 38801
(662) 538-8426