Bedenbenderder, Burn Outs, and Big Foot at the 53rd O'Reilly Auto Parts Dallas Autorama
By Janet Bires
The 53rd O'Reilly Auto Parts Dallas AutoRama was abuzz with Burn Outs, Big Foot and Bike Stunts during the February 15-17th weekend.  While normally the excitement happens indoors at our shows, in Dallas it was it was revved up to the red outdoors: the Burn Out contest, which is a Dallas tradition, created clouds of smoke on Saturday and Sunday; Big Foot rolled over mountains of cars during  crushing demonstrations; and the Street Bike Stunt Show pulled off some amazing tricks.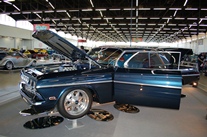 John Bedenbender's 1962 Chevy Impala


(Diamond Award, Best Custom)

Dwayne Peace's 1955 Ford T-Bird


(Lone Star Award, Outstanding Full/Radical/Handbuilt Custom)

Buddy Jordan's 1933 Ford


(Best Rod, Best in Class)

The AutoRama hosted a number of special sections including the Tribute to the Batmobile, the Motorama Traditional Section presented by Ol' Skool Rodz, The Cars of Jimmie Vaughan, which featured four of his magazine cover cars, and the Pinstriper Panel Jam & Charity Auction, which raised $25,000 for the Scottish Rite Hospital.
Many of the big hitters from the Summit Racing Equipment Show Car Series were in attendance, and John Bedenbender took home the show's top prize, the Dallas Diamond Award, plus $2,000 with his cool and classic 1962 Chevy Impala.  Bedenbender also won the Best Custom Award. Dwayne Peace grabbed the Lone Star Award for his 1955 Ford T-Bird, which was the 2012 Ridler Award winner. Chris Glasgow and his 1964 Olds Cutlass captured the CASI Cup, while Wayne Terry's 1967 Chevy truck picked up the Steele Rubber Products Master Builder Award. Gary Cox won the Rodz Deluxe Award with his 1946 Ford coupe, and the 1955 Chevy custom pickup owned by Gary Lochrie received the George Barris Award.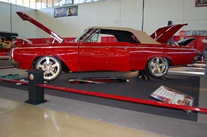 Chris Glasgow's 1964 Olds Cutlass


(Outstanding Custom)

Dana Irvin's 1965 Ford Mustang


(Best Street Machine Comp, Best in Class)

Mac Bernd's 1969 Chevy Camaro SS


(Best Restored, Best in Class)

In the ISCA Category Awards, Wayne Terry's 1967 Chevy took Best Truck. Dana Irvin's 1965 Mustang sped off with Best Street Machine Comp and Buddy Jordan's 1933 Ford roadster won Best Rod.  Big Tony Madson rode away on his 2011 Arlen Ness Custom with the Best Bike prize, and Mac Bernd's 1969 Camaro SS nabbed Best Restored. In the Club Display category, Z Club won Best, and Das Klub and North Texas Mustang Club won Outstanding Club awards. Rising Star Awards went to:  Daniel Johnson (Overall Rising Star), Zach Weygandt (Paint and Engine), Jon Ellison (Interior) and Kelsie Mathis (Display).
[thethe-image-slider name="Dallas Slider"]