Cincinnati Cavalcade of Customs Squires Cup Goes to Emery's '32 Ford
By Janet Bires
The 53rd koi Auto Parts Cavalcade of Custom brought a fantastic selection of special sections, showcases, celebrities, feature cars, and hundreds of rods & customs to the Duke Energy Convention Center in Cincinnati, OH over the January 11-13 weekend.
Along with all the wild rides in competition, the Cavalcade presented six generations of sprint cars in the Sprint Car Legends display. Drag City USA showed off a selection of nostalgia race cars, while Survivor's Alley offered an array of rough and raw traditional rods, customs and bobbers. The Tribute to Batmobile drew a crowd of spectators who were craning their necks to get a glimpse of three generations of iconic vehicles as well as the the stunning model dressed as Cat Woman.  Gene Winfield's "Chop Shop" had the legend himself chopping a top and bending metal all weekend, and the Pinstriper "Art of the Kool Charity Auction" raised thousands of dollars for the Shriner's Burn Institute.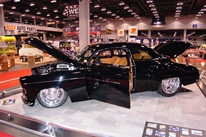 Janie & Buzzy Dobbins' 1950 Chevy Styline


(KOI Chairman's Pick, Best Custom)

Dave & Joyce Emery's 1932 Ford


(Squires Cup, Best Rod)

Roger Crist's 1948 Chevy


(Best Truck)

In show competition, Dave & Joyce Emery drove away with the Squires Cup and $2,500 for their 1932 Ford Coupe, which also won Best Rod.  Janie & Buzzy Dobbins and their 1950 Chevy Styleline Business Coupe scored the koi Chairman's Pick Award and Best Custom.  Randy Jackson's 2011 Scion XB earned the Summit Racing Equipment Kids Choice Award, and Mike Krummen's 1955 Chevy pickup won the Steele Rubber Products Master Builder's Award.  John Kryta garnered the CASI Cup for his 1969 Pontiac GTO.
The remaining Category Best winners from the ISCA Summit Racing Equipment Show Car Series included:  John Kryta's 1969 Pontiac GTO (Best Restored), Karma Hopper's 2012 Undercover Dragster (Best Street Machine Comp), Roger Crist's 1948 Chevy (Best Truck), and Mike Eckel's 2012 Custom Softtail (Best Bike).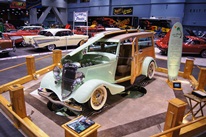 Greg Wilson's 1934 Ford Woody


(Outstanding Street Rod)

Pete Simpson's 1970 El Camino


(Outstanding Truck)

Sean Ripp's 1965 Ford Mustang


(Outstanding Custom)

Rising Star Awards went to Jack Dossey (Paint), Mega Stith (Engine), Mikayla Cooper (Interior), Casey Hawn (Display), and Nicholas Roedl (Overall Rising Star). In Club Awards, the British Car Club of Greater Cincinnati and RSSR each won Outstanding Club, and the TriState Chevelle Club was named Best Club.
A fun new competition took place at this year's show.  In the Pedal Car Challenge sponsored by Genuine Hot Rod Hardware, high school automotive students received a pedal car to customize in any way they wished.  The results were pretty amazing.  After being judged, the cars were auctioned off and the proceeds from each car went to its respective school.

[thethe-image-slider name="Cincinnati Slider"]