Ridler Winner Comes Back Home to 58th Omaha World of Wheels
By Bob Millard
The 2013 Detroit Autorama Ridler Award winner came home to the 58th Annual O'Reilly Auto Parts Omaha World of Wheels and, sweet repeat, captured Omaha's top prize as well. Ron Cizek (owner) and Andy Leach (builder), both from the Omaha area, agreed on the night they won the Ridler to bring the 1940 Ford Coupe to Omaha the next weekend. I called the show chairman on the entry side of the show, Dan Lee, and told him to make room at the front door for this "one-of-a-kind hot rod'." We had at least six local television stations come out and shoot the car and interview both Ron and Andy. What a special weekend for them and the hot rod community around Omaha. For their efforts, Ron and the beautiful 1940 Ford won the Best Rod Award and the shows top prize, the Mid-America Cup.

Ron Cizek's 1940 Ford


(Mid-America Gold Cup, Best Rod)

Dale Boesch's 1969 Chevy Camaro


(Nebraska's Finest, Best Street Machine Comp, Summit Racing Equipment Kids Choice)

Lonny Moore's 1953 Ford F-10


(Best Truck, Best in Class)

Some of the many outstanding entries that made the show a great success included Jim Lippert's 1967 Nova and Mike Daley's 1972 Challenger, both of which won most of the Outstanding Awards in their respective categories. Dan Coleman from Arvada, Colorado won the CASI Cup, the Best Custom Award and the needed precious points to qualify for the ISCA Championship Finals with his 1956 Ford two-door sedan. Lonny Moore won the Best Truck Award with his 1953 Ford F-100. This was the first time we have seen this truck and it is done very well. Dale Boesch, an outstanding local builder, had a very fresh 1969 Camaro at the event and won the Best Street Machine Comp Category, the Summit Racing Equipment Kid's Choice Award and Nebraska's Finest Award. Best Restored was won by Mike Patek with a 1957 Hudson Hollywood, a remarkable piece of workmanship.
Rising Star awards went to several talented up-and-coming car exhibitors and their vehicles:  Courtney & Rob Kosiski took the overall Rising Star prize for their 1956 Chevy Bel Air.  Evan Hrabik's 1979 Ford Bronco earned Rising Star-Paint, while Jack Dover's 2013 Eagle 360 Sprint Car won Rising Star-Engine.  Brandon Ciurej's 2005 Dodge Neon SRT took Rising Star-Interior, and Shelby Bremer was rewarded with Rising Star-Display for the display for his 2007 McGee McPhantom.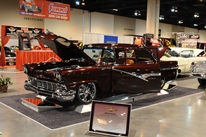 Dan Coleman's 1956 Ford


(Best Custom, CASI Cup)

Terry Jura's 1966 Chevy Nova


(Outstanding Display, Best in Class)

Larry Doerr's 1967 Plymouth Satellite


(Outstanding Paint, Heartland Top 10, Best in Class)

Some of the other features at the 58th running of the show included the Big Foot Monster Truck, Mountain Man from the "Duck Dynasty" show, former WWE star "Edge" and Christopher Reed from "Sons of Anarchy". Werner Cycle put together a great motorcycle show and Dwaine Gillespie did a super job with the Traditional Section this year. Championship Auto Shows hooked up with Gene Winfield to do a number of shows this year with a segment we called "The Chop Shop." In this area Gene and some special local talents actually chopped a top from Friday to Sunday.
As you can tell there was plenty to see and do all weekend at the O'Reilly Auto Parts Omaha World of Wheels. Plan to attend the 59th edition in 2014 as part of the Summit Racing Equipment Show Car Series, also sponsored by Tremec Transmissions, Weld Wheels and Meguiar's.
[thethe-image-slider name="Omaha Slider"]