Big Foot and Big Fun at the 53rd O'Reilly Auto Parts Kansas City World of Wheels
By Bob Millard
The O'Reilly Auto Parts World of Wheels, Kansas City edition was a great show, as it is every year. The Rodtiques Car Club does an outstanding job of putting this event together annually, making it a very popular stop on the Summit Racing Equipment Show Car series. A very special "thank you" goes out to John Hoagland (the local show chairman) and the rest of the club for their efforts year after year.
The Student Career Day program is doing very well in Kansas City, and attendance just about doubled this year, with 1,000 students attending this year's program. Kansas City was one of the shows chosen for 2013 to be part of the First Annual Genuine Hot Rod Hardware Pedal Car Challenge. Five area schools were given the same pedal car from GHRH and told they could do whatever they wanted to do with it. It just had to have pedals still in it when they were done. Well, let me tell you, this program has been fantastic all across the country, and Kansas City was no exception. The cars were great, and once they were judged, they were put on the auction block with the proceeds going to the schools that did the builds. The five cars brought close to $2000.00. Great for the schools!! This program was placed in six Championship Auto Shows events for 2013 and will be expanded for 2014.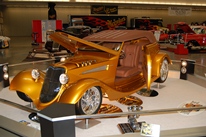 Tammy Ray's 1933 Ford


(Rod-Tiques Award, Best Rod)

Dan Tallant's 1951 Chevy


(Best Truck, Best in Class)

DeWayne Spiess' 1969 Chevy Camaro


(Best Street Machine Comp, Best in Class)

Another first, this year, in Kansas City was the unveiling to the public of the all-electric Big Foot Monster Truck. Jim Kramer, who piloted the original Big Foot, was on hand to show the crowd what this amazing vehicle could do. No Noise! It is very impressive what the Oddessy Battery people and the Big Foot team have come up with!
The celebrities this year included Davis Cleveland from the popular Disney show "Shake It Up," former WWE star Adam Copeland "Edge" and "Sons of Anarchy" star Christopher Reed.
There were over four hundred entries in competition at this year's show, along with a couple of hundred motorcycles assembled by the crew at Gail's Harley Davidson. The Tradition Section has been a hot spot here every since we started it six years ago. This year was no exception, with over 100 entries participating. Other popular sections included Pete & Jakes Street Rod Heaven, the Cavalcade of Customs, and Drag City. They always add something special to the event as does the Pinstriper's Auction which, this year, donated over $10,000.00 to the Dream Factory Foundation.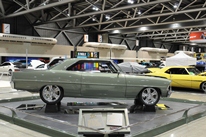 Jim Lippert's 1967 Chevy Nova


(Best Custom, Best in Class)

Brian Schultz's 1977 Chevy Corvette


(Outstanding Street Machine, Best in Class)

Jim Lindsey's 1937 Studebaker Dictator


(Outstanding Custom Rod, Best in Class)

Some of the great entries competing at this season's show included Tammy Ray's Gold Digger '33 Ford. Tammy won the Best Rod Award and the coveted Rodtiques Award. Jim Lippert won Best Custom with his stunning '67 Nova, while John Godfrey took the Best Restored honors with his '69 Mustang. Tallant's Auto had a great display of vehicles they had done and their '51 Chevy pickup won the Best Truck Award. DeWayne Spiess' 1969 Camaro won the Street Machine Comp category and Greg Wilson from Louisville, KY won many of the Outstanding Rod awards as well as the CASI Cup with his mint green '34 Ford Woody.
Devin Hieronymus earned the overall Rising Star Award and Rising Star-Engine for his '68 Chevy Camaro, while Aidan Eckart took home Rising Star-Paint, Michael Zinevich won Rising Star-Interior, and Samatha Tallant scored Rising Star-Display. The Master Builder award went to Michael Piedimonte and his'49 Ford Anglia; Mike Fairbanks' 1968 Camaro received the Family Events Award; and the National Muscle Car Association Award was bestowed on Stan Lazenby's '65 Plymouth Satellite.
In Club Display competition, the K.C. Corvette Association was named Best Display, and the KC Arrowheads and Antique Automobile Club of America each received Outstanding Club Display awards.
What a great event, make sure you plan on attending the 2014 O'Reilly Auto Parts Kansas City World of Wheels next February!!!
[thethe-image-slider name="Kansas City Slider"]