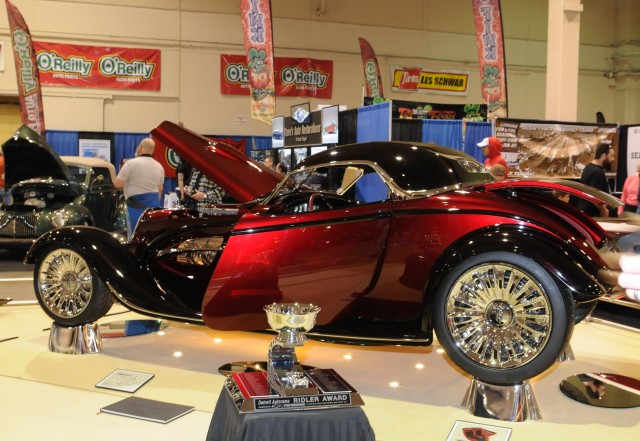 46th Annual O'Reilly Auto Parts Boise Roadster Show presented by Les Schwab Tires
From: The New Crew, firebirdonline.com
Images by: Roadster Show staff
BUDDY JORDAN "RENAISSANCE" ROADSTER SWEEPS GOLDMARK TITLE AT ROADSTER SHOW
Boise, Idaho…Buddy Jordan and his "Renaissance" Roadster earned top honors at the 46th edition of the O'Reilly Auto Parts Boise Roadster Show. The ISCA event took place at Expo Idaho. Presented by Les Schwab, the three-day Summit Show Car Series event attracted an outstanding field of exhibitors from eight states.
The remarkable 1933 One-Off Roadster that won the Ridler award at the Detroit Autorama in 2017, won the coveted Goldmark award. The handbuilt rod was constructed at Steve's Auto Restoration by leader Steve Frisbie and his team.
Local builder Kenny Welch was presented the 36th Master-Builder honor. The special presentation has been made to builders and supporters of the Roadster Show dating back to 1982
The overall Best Club display was earned by the Valley Corvettes four-car display.
Selected for People's Choice, the wild Rescue 39 Fire Truck shown by Rosario Trujillo from Rowland Heights, Calif., swept the hearts of all the fans who attended this year.
Thanks goes out to Chip Foose with Foose Design for making his first trip back to Idaho's capital city in thirteen years. He was joined by Ken Reister who brought America Most Beautiful Roadster and Motorcycle in a stunning two-vehicle display.
We'd also like to extend a big thank you to this year's ISCA judging staff headed up by supervisor Scott Hammon. He was joined by team-members Greg Warg, Devin Ellis and Rod Detterich.
# # # #
2018 Award Results
46th Annual O'Reilly Auto Parts Boise Roadster Show presented by Les Schwab Tires
Summit Show Car Series ISCA event
Expo Idaho
Goldmark Award, Best Rod – Buddy Jordan, Portland, Ore., 1933 One-Off Roadster
The Wild One– Harry Burkholder, Nampa, 1948 Fiat AA/Fuel Altered
Fire Rod – Dennis Holt, Spokane Valley, Wash., 1940 Ford Coupe
Trendsetter, Best Custom– Ted & Sue Leach (Kindig-It Design), Coeur d'Alene, 1958 Lincoln Continental
Master Builder – Kenny Welch, Boise, 1948 Fiat Topollino
Mighty Fine, Best St. Machine/Comp – Scott Naccarato, Spokane, Wash., 1965 Ford Mustang
Essence of Cool – Troy Adams, Hayden, 1940 Mercury Convertible
Tompkins Award – Jay Lungren, Boise, 1937 Ford Coupe
Best Restored – Ronald Halbleib, Longview, Wash., 1966 Chevelle Convertible
People's Choice – Rosario Trujillo, Rowland Heights, Calif., Rescue 39 Fire Truck
Best Truck – Bruce Stewart, Middleton, 1955 Chevy Pickup
Best Bike – Ken Reister, Littleton, Colo., Custom Motorcycle
Jack's Pick – Jennifer Nation, Middleton, 1952 Ford Pickup
Chip Foose/Ken Reister "Minion" Pick – Troy Adams, Hayden, 1935 Dodge Pickup
Best Club Display – Valley Corvettes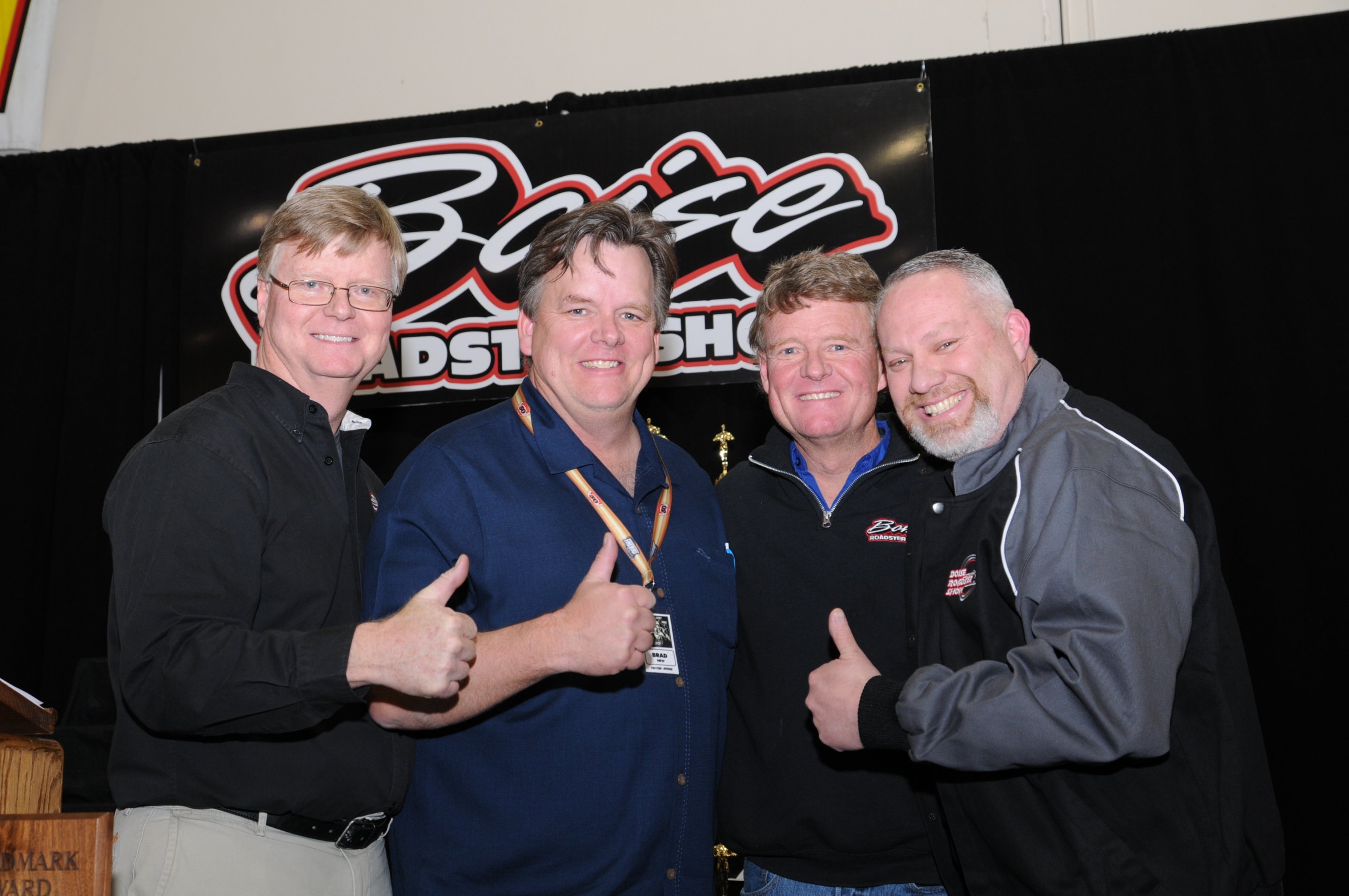 Master Builder Kenny Welch with the New Crew