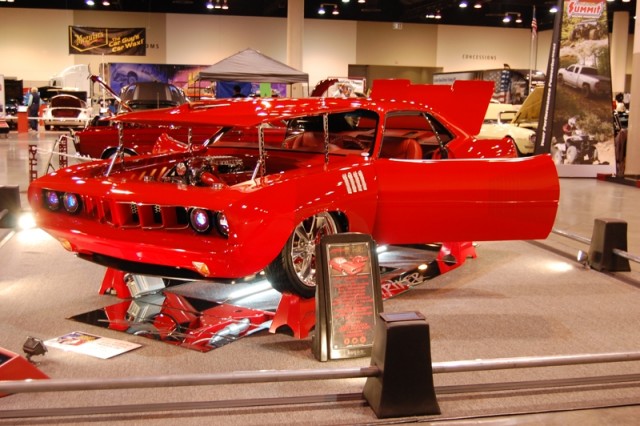 62nd Annual O'Reilly Auto Parts Omaha World of Wheels
(Photo: Jesse Matlock's 1971 Plymouth 'Cuda – Omaha Best Street Machine/Comp)
By Bob Millard
The 62nd Edition of the O'Reilly Auto Parts Omaha World of Wheels was held March 17-19, 2017. This show is part of the Summit Racing Equipment Show Car Series and the ISCA Championship Series.
This year, the front row was filled with some spectacular cars. Ted Hubbard brought his 2017 Great 8 contender 1930 Model A, built by Andy Leach. Next to him was Rick Gochanour with his 1966 Ford Bronco, which was also built by Leach and his crew at Cal Creations. Dale Boesch showed a fresh 1934 Ford Roadster. Dale owns his own shop in Humprey, NE and has had his share of front row cars at the World of Wheels in Omaha. A couple of the 2017 ISCA finalists were on hand this year: Larry Reimer, who finished second in the Restored Category at the Finals with his blue 1972 Firebird, won Best Restored, and Jesse Matlock, from Dewey, OK, who took the 2017 Street Machine Category/Comp Championship at the Finals, earned Best Street Machine/Comp for his 1971 Plymouth 'Cuda. George Fage from, St. John, IN, grabbed the Best Custom Award for his 1958 Plymouth. These are just a few of the great cars at this year's show.
Jeff Henry Chevrolet sponsored the 50 Year Celebration of the Camaro with an eight car display, while Thunder Roads Motorcycle Magazine sponsored and hosted a bike show with 85 motorcycles entered. This was their second year, and so far this has been an excellent relationship. The Rebels Car Club did a great job with the traditional section featuring 60 entries competing for their special awards. Lowrider Magazine and "Boss Man" Joe Ray were set-up all weekend for the Lowrider fans.
Our celebrities for this season's show were WWE Superstar Daniel Bryan, Rick Harrison from the TV show "Pawn Stars," and Ben Jones "Cooter" from the Dukes of Hazzard Show.
I would be remiss to not mention the Midwest Street Rod Club for their continued support.
Be sure to mark your calendars for March of 2018 for the 63rd Omaha World of Wheels, which will be a show worth attending. Thanks to everyone involved with this event!