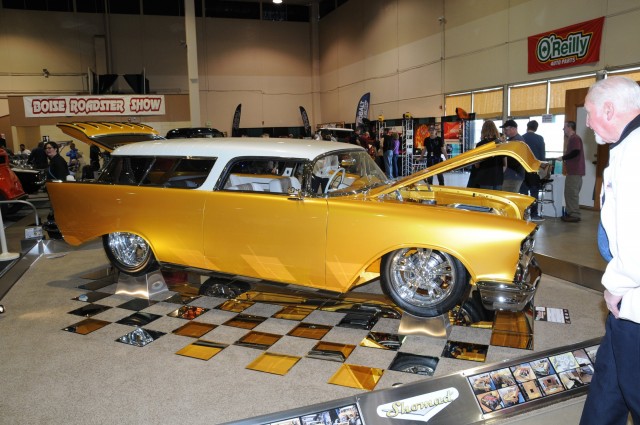 "SHOWMAD" 1957 CHEVY GARNERS GOLDMARK IN BOISE
By Scott New
Ron Maier, from Hillsboro, Oregon, captured the Goldmark award at the 45th Annual O'Reilly Auto Parts Boise Roadster Show. Presented by Les Schwab Tires, the ISCA Summit Show Car Series event was staged over three days and nights at the Expo Idaho facility.
In impressive fashion, both Aaron Atnip and Mark Spurlock, with A & M Deluxe Customs, earned their third Goldmark title (winning in 2013-Jerry Kjensrud; 2015-Greg Meyer and 2017-Maier). Under construction for a number of years, the 1957 Chevy Nomad called "SHOWMAD" also swept Best Custom and Display.
Selected as the 36th recipient of the prestigious Master-Builder award, Mickey Ellis from West Point, Utah, graciously accepted the special honor. For nearly three decades, Mickey was the judging supervisor of the Boise show. He was also part of the 60th Anniversary celebration of the Stag's car club with a 1932 Ford highboy coupe, which won Best Club Display.
The show featured the first public appearance of Eddie Braun's "Evel Spirit" Skycycles, which flew over Idaho's Snake River Canyon last September. In addition, Jerry "the King" Ruth was a special guest of honor. Ruth fired up his 1971 Top Fueler (outside) in recognition of the 50th year of racing at Firebird Raceway in 2017. On behalf of Marvel Comics, a meet and greet was staged with both Spiderman and Iron Man over the weekend.
2017 Boise Roadster Show highlights:
Goldmark and Best Custom – Ron Maier, Hillsboro, Ore., 1957 Nomad
Essence of Cool and Best Rod – Tom Zink, Gresham, Ore., 1941 Ford
Trendsetter and Best Street Machine/Comp – Tim Kerrigan, Sonoma, Calif., 1957 Chevy
Best Restored – Terry Richards, Meridian, 1968 Shelby GT-500
People's Choice and Best Truck – John Rydzewski, Oregon City, Ore., 1955 Ford F-100
Best Bike – Pete Reed, Boise, 1913 Indian
Firerod – Dennis Akers, Post Falls, 1931 Ford Vicky
Mighty Fine – Wally Belt, Salem, Ore., 1937 Ford
Tompkins Pick – Michael Mongiello, Eagle, 1936 Ford
Jack's Pick – John Griffin, New Plymouth, 1936 Ford
The Wild One and Long Distance – Gordon Tronson, Las Vegas, Nev., 1962 Econoline
Club Display – Stag's car club, Roy, Utah
Goldmark Champion Ron Maier